The team at Subaru of Morristown is often surprised by how often drivers overlook their wiper blades. Considering how crucial a clear view is behind the wheel, it's essential to make sure your wiper blades are in working order!

If your wiper blades have been skipping, streaking, or chattering, you may be due for a new set. The experts at our Morristown Subaru parts department can help you choose the perfect pair!
Directions: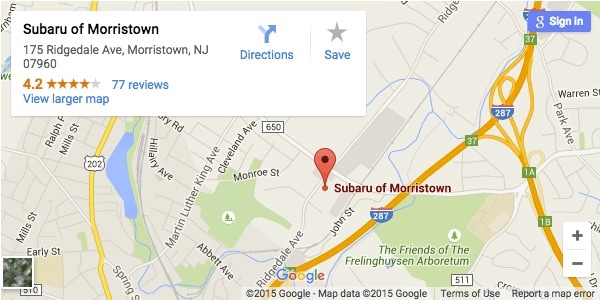 Happy Customers:
"I'm very happy with the service provided. The team is responsive and informative. Additionally, the waiting area is pleasant and the option of a ride or a loaner car is incredibly helpful." - tsquarednj, DealerRater.com user
"It is very easy to schedule service online with available time slots. The cost of repair items are listed clear on the wall. The service schedule and status of service are shown on the screen of waiting room. The waiting room is very comfortable. The staff is very friendly." - FCheng, DealerRater.com user
Wiper Fluid
Whether you're rinsing away dust in the summer or thawing frost in the winter, washer fluid is crucial. If you've hit the button only to find that nothing is dispenses, chances are that the reservoir has just run dry. Fortunately, it's easy to refill.
Before your start, you'll need good-quality windshield washer fluid and a funnel.
Before you begin, make sure your vehicle is turned off
Locate the hood release level and pull it
Under the center part of the hood, discharge the latch and lift up the hood
Open the wiper fluid and set it on the ground along with the funnel
Locate the fluid reservoir cap and open it
Locate the fill line just below the top edge of the reservoir opening, place the funnel in the opening, and pour the fluid into the reservoir until it reaches the fill line
Replace the reservoir's cap and close the vehicle's hood-securing it back into place
Place the top back on the bottle of fluid and rinse the funnel with water
If you're looking for new wiper blades or washer fluid, the expert team in our parts department is here to lend a hand. Of course, our certified technicians are also on hand to handle any installation or other maintenance you may need.
To learn more, or if you'd like to schedule a service appointment with us, please give Subaru of Morristown a call at (866) 910-3466.