Drivers at Subaru of Morristown clearly have an understanding of traction out on the road, but even the best all-wheel drive system is only as good as the condition of your tires. Your tires are key to grip, and our Morristown Subaru service center can help to make sure your tires are in great shape!
Directions: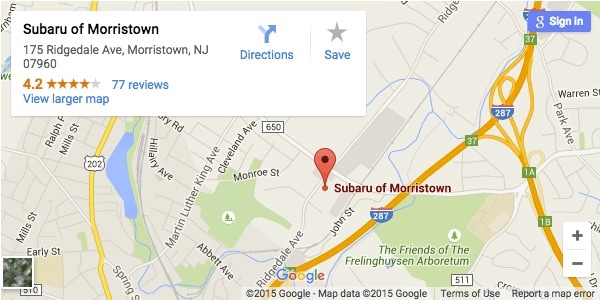 Happy Customers:
"It is very easy to schedule service online with available time slots. The cost of repair items are listed clear on the wall. The service schedule and status of service are shown on the screen of waiting room. The waiting room is very comfortable. The staff is very friendly." - FCheng, DealerRater.com user
"I felt very welcomed at the dealer. Albert Rowe was very thorough in explaining all logistics of vehicle. Would definitely recommend this dealer." - Suesboyz, DealerRater.com user
How To Tell If You Need New Tires:
Properly inflating your tires will help to prolong their lifespan and ensure that they wear evenly. Even with proper care, though, your tires will always wear down over time. Grab a penny and head out to your car to check the state of your tread depth!
Bring a penny and go to each tire of your vehicle.
Insert the penny against the treads, with the top of Lincoln's head facing the tire.
If the tread doesn't extend past the top of his head, then the tread is low and you're due for a change!
Do this in the center of each tire, as well as each edge; your tires may be more worn in different areas.
If your tire tread depth is looking low, or if you've noticed that your tires are wearing down unevenly, our experts are here to help! From wheel alignments and tire rotations to replacing your tires with the perfect new match, we've got what you're after.
For more information, or to schedule a service appointment at Subaru of Morristown, be sure to give our certified technicians a call at (866) 868-4009 today!