Repairs and maintenance are a critical part of vehicle ownership, and Subaru of Morristown is here to help! From top to bottom, our certified technicians know the ins and outs of your vehicle.
One component that many drivers tend to overlook is the exhaust system and, specifically, the muffler. While most drivers know that the muffler works to regulate your vehicle's sound, the team at our Morristown Subaru service center will tell you that it plays a role in your vehicle's efficiency and emissions, as well.
If you're having muffler trouble, or would like us to give your exhaust system a once over, be sure to call (866) 910-3466 to schedule a service appointment with us today!
Directions: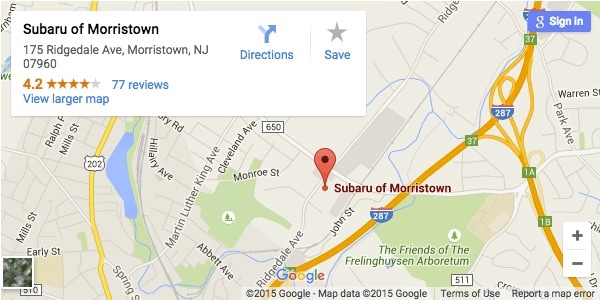 Happy Customers:
"It is very easy to schedule service online with available time slots. The cost of repair items are listed clear on the wall. The service schedule and status of service are shown on the screen of waiting room. The waiting room is very comfortable. The staff is very friendly." - FCheng, DealerRater.com user
"Customer service is great. Staff is knowledgeable, willing to work with you and friendly. Hours of operation are convenient. I feel confident when I bring my car in for service at Subaru of Morristown." - AA15, DealerRater.com user
Signs It's Time for a New Muffler
Loud Noises
If your muffler has suddenly grown louder, it's a sign that there's trouble. When it's working properly, the muffler should operate quietly. When something is wrong, the muffler will become a roaring monster. If you've encountered a sudden change in volume, it's time to drop by.
Lower MPG
Fuel economy is another benefit of a properly function muffler. If you notice that you're making more trips to the fuel pump than usual, it could mean that your vehicle has a problem. In many of today's vehicles, fuel economy is especially simple to keep track of thanks to the dash-mounted screens. Track your mileage, and be sure to note any unexpected changes.
Bad Smells
A bad smell in the cabin can also indicate exhaust trouble. When the muffler is working correctly, it will funnel the exhaust fumes outside and away from the vehicle. If there's a leak or other problem, those fumes could be stuck inside your car. Quite obviously, this is a dangerous problem, as exhaust fumes can be fatal over time. If you notice a bad smell in the cabin, be sure to roll down the windows and head to our Morristown Subaru service center right away!
To learn more about your Subaru's exhaust system, or to schedule a service appointment with us, be sure to give Subaru of Morristown a call at (866) 910-3466 today!