At our Subaru dealer in Morristown, we can attest to the importance of routine maintenance for your vehicle. One component that many drivers take for granted, though, is their car battery.

Your car's battery provides the power to start your vehicle, and if it runs flat you'll find yourself stuck. Unfortunately, batteries tend not to give any warnings signs before they run dry, which is why our Morristown Subaru service center recommends replacing any car battery that's over three years old.
If you need a new car battery or simply a battery check for peace of mind, call (866) 868-4009 to schedule an appointment today!
Directions: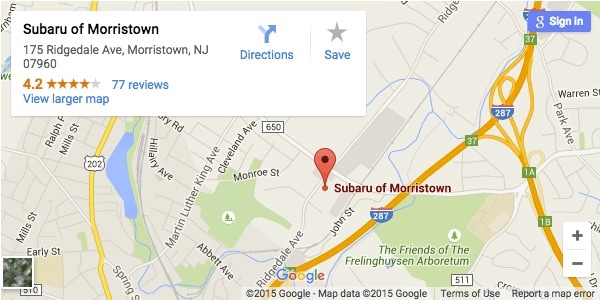 Happy Customers:
"The work they did was fast, and the costumer service at the font desk of the service center was also good. All around, they worked with me and helped me out." - Smitty123, DealerRater.com user
"I'm very happy with the service provided. The team is responsive and informative. Additionally, the waiting area is pleasant and the option of a ride or a loaner car is incredibly helpful." - tsquarednj, DealerRater.com user
How to Jump Start a Car
If you find yourself in a situation with a failed battery, it's time to break out those jumper cables.
Find a vehicle to help you with the jump
Make sure that both cars are in "park" or "neutral" with their ignitions shut off and emergency brakes on
Remove the caps from each vehicle's battery and connect the cables
Attach one of the red clips to the positive terminal on your battery and attach the other red clip to the positive terminal on the other vehicle's battery
Attach one of the black clips to the negative terminal on the other car's battery and attach the other black clip to an unpainted, metal surface on your car - make sure that it isn't near the carburetor or the battery
Try starting your vehicle
If your vehicle starts, thank the person for helping you and hit the road! If you go through all of these steps and your vehicle still won't start, it's time to purchase a new battery.
Whether you're looking for the right battery at our Morristown Subaru parts department or want one of expert technicians to handle your car battery installation, we're here to help! We invite you to schedule a service appointment with us online or to give the Subaru of Morristown team a call at (866) 868-4009.