The Subaru of Morristown team knows that you love the sense of control that you get behind the wheel of your vehicle. This goes double when you're stopping! Of course, maintaining your brake system at our Morristown Subaru service center will help you to always have the stopping power you need.

Directions: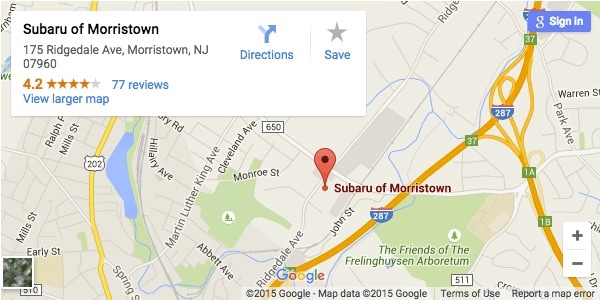 Happy Customers:
"I'm very happy with the service provided. The team is responsive and informative. Additionally, the waiting area is pleasant and the option of a ride or a loaner car is incredibly helpful." - Tsquarednj, DealerRater.com user
"Subaru Morristown is staffed by a friendly and competent team. Ronny is very efficient, always follows-up, is proactive and helps insure my car is ready when promised." - Marcfs, DealerRater.com user
Time For New Brakes:
It's no small task to stop a vehicle safely, but your brakes do it every day. Over time, though, friction and heat will naturally wear down your brake pads or shoes. Our Subaru service experts in Morristown suggest keeping an eye out for these warning signs:
A grinding sound coming from the brakes is a telltale sign that your brake pads are worn out. This greatly reduces the stopping power and effectiveness of your brakes in critical situations.
If you notice your brake pedal responding differently, that is a sure sign something is wrong. It may feel soft or spongy when you apply the brakes or it could be difficult to push down. Either of these situations may also include your vehicle pulling to one side when you brake because the calipers have worn down unevenly.
Vibrations through the pedal or steering wheel are signs that your brakes have heated up too much and are indicative of serious rotor problems.
A bad odor when you apply your brakes means something isn't working properly or is about to fail. Overheated brake pads lead to unreliable braking patterns.
Warning light. There's a reason these things come on, and if they do then don't ignore them.
If these indicators sounds familiar to you, then it's time to come see us! We can give you a complete brake inspection and make sure that you've always got the control you need when it's time to hit the brakes.
To learn more, or to schedule a service visit, be sure to contact Subaru of Morristown today!