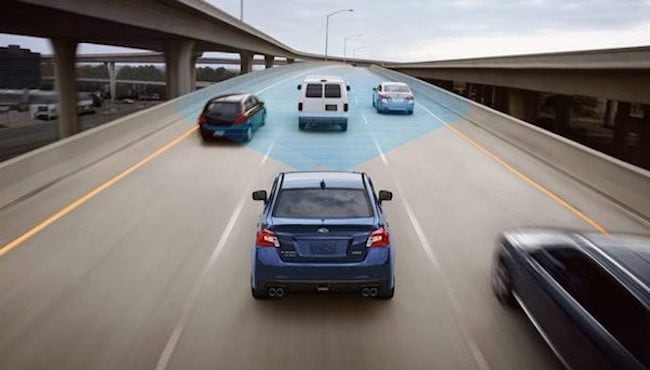 EyeSight Adaptive Cruise Control



Intended for highway use, EyeSight's Adaptive Cruise Control system helps drivers maintain a safe driver-selected speed and distance from the vehicle ahead of them by braking or accelerating the car as needed. This feature can also assist in heavy stop-and-go traffic, reducing driver fatigue and helping keep the driver alert.

Pre-Collision Throttle Management

Designed to help prevent drivers from accelerating into a stopped vehicle or obstacle in front of them, Pre-collision Throttle Management helps reduce collision damages by cutting the throttle when it senses an obstacle in front but the accelerator pedal continues to be pushed. This feature is most helpful when a driver shifts into 'Drive' inadvertently instead of 'Reverse' when backing out of a parking space.
Lane Keep Assist and Sway Warning



By monitoring traffic lane markers and lines, Subaru EyeSight can detect if the car begins to wander outside the intended lane without a turn signal or if the car begins to sway, alerting the driver with visual and audible warnings.

Pre-Collision Braking

If EyeSight recognizes an impending collision in front of the vehicle and the driver has not applied the brakes with enough force to stop, Pre-Collision Braking will kick in to help drivers avoid or reduce the impact with alerts and apply full braking power for them.
Powerful Peace of Mind for Morristown Drivers
With advancements in automotive technology, safety is now more than just seatbelts and airbags. Some of the safest vehicles on the road currently have high-tech active safety systems that can identify and react to roadway dangers before drivers are even aware, and Subaru EyeSight is no different. Recently made standard on a number of 2019 Subaru models for sale, Subaru EyeSight provides Morristown drivers peace of mind behind the wheel and has been proven effective at lowering the rate of pedestrian-related injuries by up to 35%, according to a study by the IIHS.
Like a second set of eyes, EyeSight is anchored in a pair of dual color cameras located near the rearview mirror that scan the road ahead for unanticipated dangers. The advanced safety features on Subaru EyeSight bolster awareness, warn you of potential danger, and can even apply the brakes for you to help you avoid it. Many drivers credit their Subaru with protecting them in a collision and, even more, drivers remain loyal to the brand for that reason. This commitment to safety on the road is but one of the many reasons why more and more Morristown drivers continue to choose Subaru.
Want to experience all the features Subaru EyeSight has to offer for yourself? Contact us at Subaru of Morristown and schedule a test drive of any EyeSight-enabled vehicle of your choice. We look forward to hearing from you!