Shopping for a new car is an exciting experience, and that excitement lasts long into the future with the exhilarating performance of the 2014 Subaru Impreza WRX. Add in Subaru's reputation for innovative technology and outstanding safety features, and the 2014 Impreza WRX delivers everything drivers are after.
For more information on the sporty 2014 Impreza WRX, including availability and pricing, be sure to contact our Subaru dealer in NJ directly by calling (888) 892-3239 or by visiting us online today.
Performance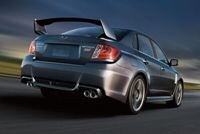 The Impreza WRX nameplate has a history of incredible performance, and this year's model lives up to the hype. The 2014 Subaru Impreza WRX brings NJ drivers a turbocharger and intercooler for the sort of race-inspired performance that drivers crave.
A 2.5L DOHC four-cylinder boxer engine delivers an impressive 265 horsepower and 244 lb-ft of torque in the 2014 Impreza WRX base, Premium, and Limited models. The 2014 Impreza WRX STI and STI Limited play host to larger intercooler and higher-boost  turbocharger for an astounding 305 horsepower and 290 lb-ft of torque.
Subaru fans in New Jersey will also love the 2014 Impreza WRX's fully independent four-wheel sport-tuned suspension for improved response and handling. STI models take things even further with a track-tuned suspension featuring inverted struts, pillow ball mounts, and aluminum-alloy lower L-arms.
Exterior
Outside, the 2014 Impreza WRX's appearance is as commanding as its performance. Available in both four- and five-door body styles, the 2014 Impreza WRX turns heads in WR Blue Pearl, Dark Gray Metallic, Crystal Black Silica, Ice Silver Metallica, Plasma Blue Pearl, Satin White Pearl.
Other aggressive touches include a quad-tailpipe stainless-steel exhaust system and three different rear spoiler styles, making the 2014 Impreza WRX's performance-oriented engineering obvious even at a standstill.
Interior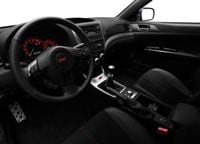 The race-inspired elements continue inside the 2014 Impreza WRX, where New Jersey Subaru fans will find a number of features that are as attractive as they are functional.
The front seats are performance-designed, with plenty of bolstering for comfort during spirited driving. The seats, which feature fixed integrated head restraints, offer six-way manual adjustment for the driver and four-way manual adjustment for the front passenger for a no-nonsense approach to comfort.
Technology and Safety
Subaru also helps NJ drivers get the most out of their ride with available technologies, including voice-activated GPS navigation and steering wheel-mounted cruise control and audio controls. Standard fare for entertainment includes a six-speaker premium audio system with iPod control and available SiriusXM Satellite Radio.
The 2014 Impreza WRX's technology includes a number of innovative safety features as well, including Anti-lock Brakes with Electronic Brake-force Distribution and Vehicle Dynamics Control for enhanced stability while maneuvering.
For the ultimate in performance, drivers need look no further than the 2014 Impreza WRX. For more information on Subaru's phenomenal 2014 lineup, including the riveting 2014 Subaru Impreza WRX, be sure to call our Morristown NJ Subaru dealership directly at (888) 892-3239 or to visit us online today.